In Memory
Neil Catone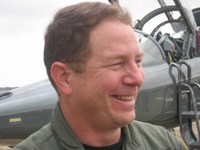 1958 - 2015
Lt. Col (Ret.) Neil D. Catone, Jr. passed away in San Antonio on June 5, 2015 at the age of 56. Neil was born in Mesa, AZ. Active in Scouting, he attained the rank of Eagle Scout. He graduated from St. Louis High School in Hawaii and the United States Air Force Academy. During his 26 year Air Force career, he piloted the F15 and later the T-38, retiring from Randolph AFB in 2006. For the past five years, Neil taught physics and coordinated the AP, and UIL programs at Judson High School. He was dedicated to his students and loved his time at Judson. All who knew Neil will remember his unique sense of humor and caring presence, which made him an excellent teacher and coworker.

Neil was an active member of Our Lady of Perpetual Help Catholic Church, Selma, where he was in the choir, ACTS Ministry, Honduras Mission, Small Christian Community, and Youth Ministries. He was also instrumental in the Youth Ministries of St. John Neumann and St. Thomas Moore Churches.

Neil was preceded in death by his sister, Barbara. He is survived by his wife, Kelly Dugan Catone; parents Ruby and CMSgt (Ret.) Neil D. Catone, Sr.; children Neil, Amanda, and Scott; step-children Daniel and Gabriel; and brothers James and Christopher.

A Rosary will be said Sunday, June 14th, at 7 p.m. at Our Lady of Perpetual Help Catholic Church, Selma. The Funeral Mass will be at OLPH on Monday, June 15th at 12 noon, followed by burial at Fort Sam Houston National Cemetery. The Catone family thanks you for your love and support during this time of grief.

- See more at: http://www.legacy.com/obituaries/sanantonio/obituary.aspx?pid=175069261#sthash.sxRMSB4y.dpuf