In Memory
Lamont White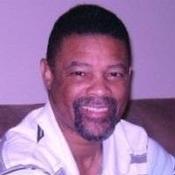 Lamont Darnell White's life was ended by a senseless shooting on January 1, 2013. Lamont spent freshman and sophomore year with the class, where he was a JV wrestler. As happens with many of our Radford classmates he was not able to graduate with us due to military transfer.
LAMONT D. WHITE, age 54, was called home on January 2, 2013. He was born on February 15, 1958 in Long Beach, California to Russell N. White and Jean Harrison White. Lamont traveled extensively as a navy kid. A life scout, he graduated from Mt. Eden High School, of Hayward, California, where he was a top high school wrestler and a member of the track team. Lamont was an avid 49er fan and was employed at Xerox and Target Corporations.

He leaves to cherish his memories, his wife, Nanci White of Irving, Texas; daughters, Stephanie Ruiz and Ana Ruiz both of Flower Mound, Texas, and Rachele Ruiz of California; brothers, Kim White and Efrem White, both of California and Eric White of Justin, Texas; sister, Daniece Jones; his parents, Russell and Jean White; brothers-in-law, Tom Stevenson and Mike Stevenson; mother-in-law, Brenda Geul, all of California, six grandchildren; numerous nieces, nephews; countless friends; and co-workers. Service is 2:00 p.m., Saturday, January 12 at Donnelly's Colonial Funeral Home Chapel. Burial will follow at Oak Grove Memorial Gardens in Irving. The family will receive friends prior to the service on Saturday beginning at 12 noon.